XGames.com: Billie Joe says in the film that Green Day is "like an old race car: You gotta keep it tuned up or it's just gonna sit there and rust." Talk about that: How long is a lot of time off for a band like Green Day?
Mike Dirnt: A couple weeks to a month. This hiatus we've had now has been the longest we've had as a band. I think it's a good thing at this point; we don't know what else to do with ourselves.
Green Day invited their audience into the studio for the first time in more than two decades. What was that like?
At first it was a little unnerving, and then you leave the cameras there long enough, in place, and you really don't think about it anymore. A lot of the cameras, we would set up still, and a good friend of ours filmed a good chunk of it. He's a really good fly on the wall. So after a while you don't think about it. But at first you're like, "You know, this is really weird." [Laughs.]
What were the early Gilman Street-era recording sessions like?
Really exciting. You go in and you're like, "What's that piece of equipment do?" "What's that piece of equipment do?"
It was just such an exciting time. You are learning so much every time you go in. We're still picking our brains about stuff, but now we have an idea of what recording is and how we like to approach things.
Back then, everything was so new; it was super exciting. And it was also [like] you gotta get it right the first time, because you don't have a budget.
How has the band's process of writing songs changed?
It's definitely changed in the sense of how we all appreciate one another for writing songs. Nowadays instead of jumping all over somebody's idea the second you hear it, we listen a little better than we used to. And we try to let everyone formulate their ideas rather than attacking quite as much. But we have kind of gone back to a kneejerk way of writing too: Whatever feels right, go with it and make sense of it later.
Do you listen to music while writing music?
A little bit. During that process you're writing so much and you're trying to get into each song and find these nuances for each song, so yeah, but when you're spending the whole day in the studio, you only can spend so much [time listening to someone else's music] before you go in.
My thing is, I'll get up in the morning and I'll grab my coffee and I'll put on a record. That will be the thing I listen to that day that inspires me.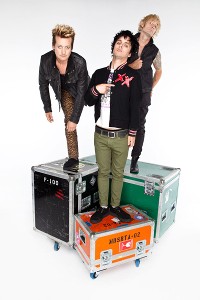 What were you listening to for the last recording sessions?
A lot of early Kinks stuff. And my wife would go out and buy Yellowbirds records or Bob Dylan with The Band. Just random old rock-and-roll records and then obscure punk records I've never heard of before, and I'd [say to myself], "Wow, that's really cool," or "Wow, that's awful."
Full interview at XGames.com: HERE